Portugal Offers Surfers Golden Ticket With New Digital Nomad Visa
Tuesday October 25, 2022 Ben Mondy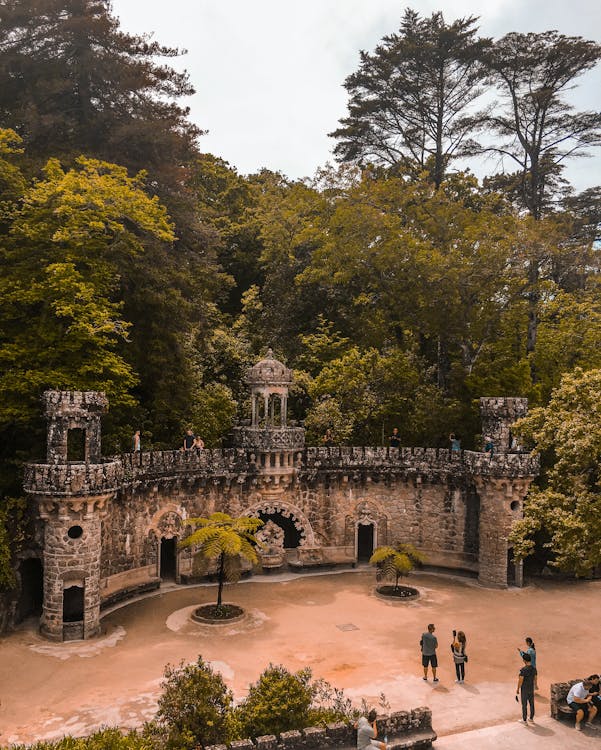 Photo by Daniel Lima: https://www.pexels.com/photo/quinta-da-regaleira-13222611/
Fancy Trading Coxos barrels in the morning and cryptocurrency in the afternoon? The Portuguese government recently announced a new visa that allows digital nomads to stay or settle for a certain period in the country.
While it's unknown who coined the term digital nomad, it first gained currency in the book of that name by Tsugio Makimoto and David Manners. Back in 1997, the pair argued that new technology would allow people to return to a nomadic state and work from anywhere.
Sitting in the Sunset Bamboo Bar in Ericeira in Portugal last week, it is a safe bet to say they had a point. Sitting next to me was Emily, a Coxos-loving, surf-mad Dane, who works in social media across a range of brands including the WSL. Next to her was Tin, a Croatian, who when he isn't marketing a Norwegian luggage brand, surfs every day and parties most nights. Steve Howse, a Londoner, and newly-minted bodyboarder had moved to Lisbon during COVID and never left. He runs his UK event business and dabbles in crypto when he's not doing mushroom retreats on the beaches south of Caparica.
"Portugal has great weather, incredible waves, fast internet, and everybody speaks English," says Howse. "Plus it's affordable and feels safe. There are fewer obstacles to overcome when you move here than most places." There is also a special tax regime designed to attract non-citizens, the possibility of applying for Portuguese citizenship after five years, and access to Portugal's public and private health system.Advertisement
Already attracting hordes of mac-tapping, avocado-loving, social-media posting workers, the pandemic, and the escalation of remote working have only made it even more desirable. Nomad List, a crowdsourced database of thousands of cities aggregating their most important characteristics, recently ranked Lisbon in first place for the best cities in the world for Digital Nomads. In Ericeira, as in Lisbon, several great co-working and co-living spaces have opened up recently catering to the influx of these non-analog wanderers.
"I've been here now for three years," said Esme, from Baltimore. "I kept my job doing stockbroking, for a while, but now work for a local surf school and also teach horse riding. I can't imagine going back to the nine to five. I've found a really good life and surf balance here."
Hopefully the visas don't impact the lineups. Photo: Unsplash
Moving here from outside the European Union, however, has always been more difficult, until now that is. Esme for example couldn't leave for fear of breaking visa restrictions. There was already a D7 visa, which many remote workers and freelancers had successfully applied for, but that wasn't really designed for nomads – it was more designed with retirees in mind.
That has all changed. The Portuguese government recently announced two new visas that allow digital nomads to stay or settle for a certain period in the country. The residence permit is for employed and self-employed workers and aims to regulate the temporary stay or residency of remote workers. Visa applications are being accepted starting October 30, 2022.
It could provide an option for the millions of Americans who now consider themselves digital nomads. In 2019, MBO Partners accounted for 7.3 million digital nomads whereas in 2021 they reported 15.5 million – a 112 percent increase.
For surfers in that ever-expanding category, it should be a no-brainer. Just in Ericeira alone, there are seven world-class waves within a few short miles, plus a stack of learner-friendly beaches and reefs. Half an hour's drive to the south is Lisbon, while the surfing hubs of Nazare, Peniche, Porto, and the Algarve are all within striking distance. Offshore islands like the Azores and Madeira (which created the first digital nomad village in Europe, aptly named the Digital Nomad Village) offer great waves and incredible landscapes deep in the Atlantic.
This visa is split into two categories, encompassing both remote workers aiming for a temporary stay of up to one year; and also digital nomads looking for a residency visa in Portugal.
To qualify for either visa remote workers need to prove a monthly income that is four times the amount of the current minimum income in Portugal, which is currently €705 per month. So you would need to be earning an income of $2,750 bucks a month, and provide a work contract or proof of self-employment.
"Digital nomadism is a trend that has been gaining traction since the early 2020s and with the COVID-19 pandemic, remote working became a reality for many. This visa will simplify procedures for citizens from other countries who want to come to Portugal and the country will benefit from attracting a new labor market and more human resources," explained Patricia Casaburi, managing director of Global Citizen Solutions, an investment migration company with strong links in Portugal.
For surfers especially it could provide the opportunity for either an incredible working gap year or perhaps a whole new life reset. You can apply at a Portuguese Consulate in your home country, or Portugal's immigration agency, Serviço de Estrangeiros e Fronteiras.