Wealthy Americans Are Hunting for 'Plan B' Citizenship in Record Numbers. Here's Where They Should Look.
A tried-and-true golden visa scheme in Portugal and robust Caribbean housing markets offer residency for investment—with upside potential
By V.L. HENDRICKSON
|  Originally Published On December 16, 2022
|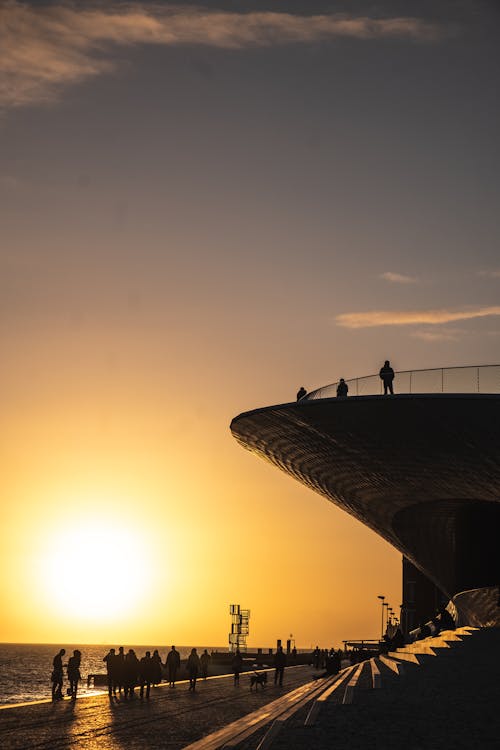 Photo by Jo Kassis: https://www.pexels.com/photo/people-walking-on-beach-during-sunset-5881935/
Since the start of the pandemic, affluent home buyers from the U.S. have been seeking residency abroad in record numbers.  Interest has more than doubled in overseas programs offering citizenship or residency for investment—otherwise known as golden visa programs, which generally give buyers the right to live and work in the country and potentially apply for citizenship—according to a report released earlier this month by Henley & Partners, an investment migration consultancy based in London.  Furthermore, the U.S. has become the biggest market for these programs, Dominic Volek, group head of private clients at Henley & Partners, told Mansion Global.
More: It's Time for Canadians to Explore Alternative Second-Home Destinations to the U.S.  "There's just such a big population of high-net-worth individuals there. We're barely scratching the surface, even though it's our No. 1 market now," he said. The first consideration when applying for these programs is not usually the monetary return on the investment, nor is it always the quality of the real estate itself—the perk of a visa or passport is the priority, said Nuri Katz, founder and president of Apex Capital Partners.  But making a little extra on the deal isn't a bad thing—U.S. investors should look to tried-and-true European locales and to areas of the Caribbean where luxury markets are little affected by rising interest rates. Options in the Mediterranean When it comes to destinations,
Portugal
is the most popular "by far," while other Mediterranean countries, including Spain and Greece, are also good options, Mr. Volek noted. "Demand for Portugal remains high, with an 83% increase in interest in the Portugal Golden Residence Permit Program" by mid-November, compared to 23% growth in 2021, Ilka Lane, also of Henley & Partners, said in an email.  In Portugal, real estate investors are eligible for a golden visa after making a real estate purchase of €500,000 (US$530,000) or more (€400,000 in rural areas), or by investing at least €350,000 (€280,000 for sparsely populated areas) in a residential property over 30 years old and in an area of urban regeneration, according to Henley.
And the country has proved a boon for price appreciation. Many clients are looking for a nice second home for €500,000 and up, and prices have risen substantially over the pandemic. The median price of a home in Portugal was up nearly 18% annually in the second quarter, the most recent data available from the country's Instituto Nacional de Estatística (INE).  Although prices are set to normalize in 2023, long-term investors should not be worried. Prices have already started to stabilize, with values predicted to fall ​by a modest 1.5% next year, according to INE data released at the end of November.  Buyers interested in making a smaller investment are buying off a development plan for a hotel or other project, and looking at it as an investment property with benefits, Mr. Volek noted.  "These €280,000 to €350,000 deals are almost a financing deal as opposed to a real estate play because they come with guaranteed buybacks," he said. "There's an opportunity cost over the term, but they're preserving the capital and that opportunity cost is giving them residency and potentially citizenship." Spain and Greece have seen increased interest, too, according to data from Mr. Lane—and have also handed homeowners a solid return in recent years.
"In the past year, there has been a surge in interest in Spain, with a 127% increase in inquiries about the Spain Residence by Investment Program by mid-November 2022 compared to the full 2021 year," he said. "Greece continues to gain in popularity, with a 37% increase in inquiries about the Greece Golden Visa Program (on top of 27% in 2021)." A real estate investment of €250,000 can get the second citizenship process going in Greece, and prices there rose 9.5% in the third quarter alone, according to a report from Knight Frank. Spain has a €500,000 minimum, and prices there were up 4.7% between July and September, the report said.  Both countries are likely to see a slowdown that extends into 2023, but the increases in values seen in the last few years are not expected to be wiped away. More: Established Neighborhoods Are Still a Safe Bet in Overheated Munich and Frankfurt Considering the Caribbean  Caribbean citizenship-by-investment programs were also popular among U.S. nationals, with a 19% increase in interest in the Grenada Citizenship by Investment Program, following a 184% jump in 2021, and a 12% increase in the St. Kitts and Nevis Citizenship by Investment Program, down from 15% last year, according to Mr. Lane's data.  Many U.S. buyers are attracted to the Caribbean not only for its warm weather and blue sea, but also because of its proximity to home, according to Mr. Katz. It also has a relatively low entry point for real estate, from US$100,000 to US$150,000.  The region saw "record sales" over the pandemic, with buyers who are able to work remotely snapping up vacation homes, according to a December report from Savills. The agency expects demand to continue, and a slate of high-end developments coming to the area in 2023—giving it a stronger growth potential in the medium-term compared to slowing property markets back in the U.S.  More: Austin's Luxury Home Sellers Shouldn't Be Scared off by the Market Slowdown For example, in Antigua and Barbuda, prices for luxury homes grew between 5% and 10% last year, the report said. The number of Americans active in its market is on the rise, and although price growth is expected to slow, but "the return of international travel and the increased attractiveness to Americans means that there is ample opportunity for growth," the Savills report said.  Grenada is another option that's been under the radar for many U.S. buyers but is gaining in popularity, while "St. Lucia saw a surge of activity when Covid-19 travel restrictions eased," and several new projects have been completed there, the report said.  Next year, prices in the area are likely to cool, but there's still opportunity, especially since the Caribbean's second-home markets are fueled by cash buyers.  "The weakening global economic outlook, coupled with rising interest rates are a headwind for property markets worldwide, but most purchasers in the region are less reliant on debt financing," James Burdess, the head of Caribbean and Latin America at Savills, said in the report. "For many, buying a property in the Caribbean is a purchase of passion rather than a purely investment decision, and there exists a strong rental market across the region as many owners choose to rent out their properties, at least for part of the year. Good returns can be achieved, particularly given the limited supply of properties and high demand during the peak winter season." More: Do Geothermal Systems Heat up Home Values? Looking Ahead Mr. Volek said he expected interest in secondary citizenship to continue to grow in the U.S., and noted that Henley & Partners has expanded to include an office in Miami, with outposts in New York and Los Angeles on the way.  "The U.S. will really boom next year," he noted.  Although these programs are well known outside the U.S.—China was the No. 1 market until Covid restrictions put a stop to travel—many moderately wealthy Americans are just starting to explore the option, Mr. Katz said. He also noted that ultra-high-net-worth buyers rarely go in for second citizenship.  Instead, interested buyers are those with both means and deep reservations about the future of the country, he said, noting the division between political parties that's been rampant in recent years, as well as increased crime, racism and antisemitism. The vast majority of buyers looking to invest in these programs are not looking to make a permanent move; they just want a contingency plan. More: Big Canadian Cities Offer a Moment for Long-Hesitant Home Buyers "People who have a lot to lose are concerned. They know anything can happen," he said. "It's not that [people] want to leave the country. But they want to have the option. They just want to have something—a little piece of paper, the passport—that they can put into their drawer and just have it just in case, right? This is plan B." There's also a cool factor in having more than one passport, he added.  "It's becoming a sort of a status symbol" like fancy cars or a mansion, Mr. Katz said. "Second citizenship fits in really well with the other status symbols that the people are interested in.