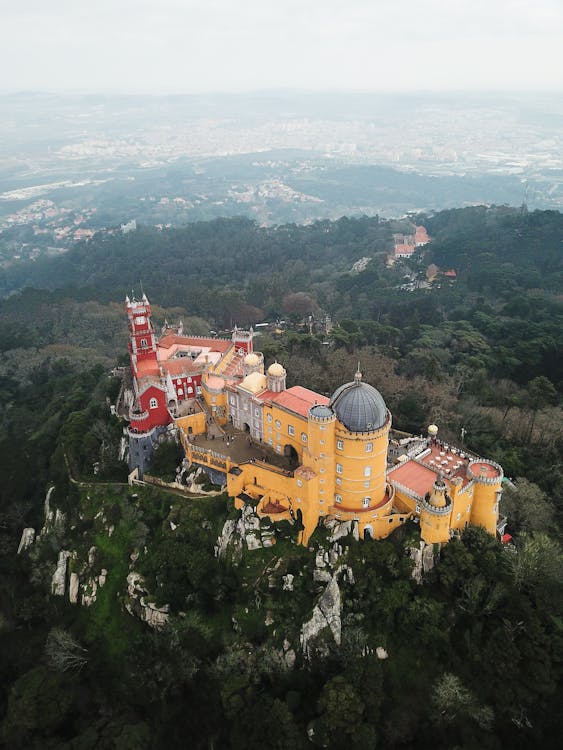 Photo by Alexey Komissarov: https://www.pexels.com/photo/aerial-view-of-a-castle-in-portugal-9022602/
With more Americans reimagining retirement, we've created a cheat-sheet on retiring in Portugal.
.Each day, it seems like more Americans are reimagining retirement and saying, "Sim, por favor" to retire in Portugal. The Iberian country's geographic diversity—with its stunning seaside enclaves and its opulent castles, its quiet country landscapes and its bustling big cities—is appealing to anybody, regardless of age.
But it's looking especially rosy to would-be retirees from the United States, where healthcare costs are rising, inflation rates are surging, and the lingering economic impact of the Covid-19 pandemic persists—all eroding many people's retirement nest-eggs.
With Portugal's temperate climate, affordable cost of living, and accessible healthcare programs, what's not to love about a life in Lisbon? Or Porto? Or Viana do Castelo?Upon retiring from her second career as a public elementary school teacher at age 59, Natalie Wester realized the lifestyle she wanted for herself in retirement wasn't achievable in the US.
After researching affordable countries for retirees and consistently seeing Portugal at the top of those lists, Wester was eager to experience it for herself. To celebrate her retirement in 2019, she embarked on a 70-day solo trip around the world as a first-time solo traveler.
"I went to Portugal for a month to check out if I'd like living there," Wester says. "I was intrigued by the thought of lowering my living expenses and the possibility of being able to afford to live on the ocean as a single retiree."The historic streets of Porto, Portugal.
Why retire in Portugal?
Despite the Federal Reserve's attempt to combat inflation with a series of rate hikes, a volatile stock market and the possibility of an impending recession has some American retirees feeling like they are walking on a tightrope.
That balancing act became apparent for Denver couple, 58-year-old Halisi Vinson and her husband 67-year-old Ricardo "Ric" Crawley. During the pandemic, Vinson took on the role of caregiver to her father with dementia while trying to manage the demands of a 70+ hour work week. Compounding the pressure was Crawley's layoff from his position as a director at an audio/visual company.
"We realized that no matter how much money we saved and invested, one accident or major health issue could take everything away," Vinson says. "We wanted to retire sooner than later. It did not make sense to work this hard—sacrificing today's pleasures for tomorrow's security, just to have the government take it all away later in life.
"AdvertisementAmericans aren't the only ones taking notice of the benefits of moving to Portugal. The latest census reported by The Instituto Nacional de Estatistica, shows the number of foreigners living in Portugal has increased by 37% since 2011. According to Serviço de Estrangeiros e Fronteiras (SEF), Portugal's immigration and border service, the number of Americans moving to Portugal in the last three years has nearly doubled. Of the 714,000 estimated foreigners living in Portugal, roughly 7,000 are American citizens.
Is Portugal really a good place to retire?
"Where you live in Portugal can make or break the experience," says Heather Proctor, a 36-year-old disabled U.S. Navy veteran and single mother, who in 2021 retired to Portugal's capital city of Lisbon with her teenage daughter in search of peace. Advertisement"One of the reasons why I decided to leave the United States and move to Portugal was because I wasn't mentally, physically, and emotionally happy," she says. "I did not feel safe as a Black woman in a predominantly white town in Northwest Florida. I also wanted more for my daughter.
I wanted her to know the world, not just America." The importance of physical and psychological safety can't be overstated. Lisbon is one of the cities where expats are happiest with their life abroad, according to the Internations Expat City Ranking 2022, where the Portuguese capital comes in fourth. (Valencia, Dubai, and Mexico City are first, second, and third, respectively.)
Portugal also ranks sixth on The Global Peace Index, the world's leading composite index measuring global peacefulness produced by the Institute for Economics and Peace.
"I ended up choosing Lisbon because I visited in 2011 while serving in the military. I really wanted a major city where there was always something to do and my daughter could navigate easily," Proctor says.Trending StoriesThe Friendliest Cities in the World: 2022 Readers' Choice AwardsCaitlin Morton21 Cheap Places to Travel in 2023Caitlin MortonHow to Pack Light When You're Only Traveling With a Carry-OnKarthika GuptaSeven Wonders of the World to Visit in 2023Aaron MillarAdvertisementLisbon, like many areas of Portugal, is ethnically diverse.
The influx of people from various countries, including the United Kingdom, Brazil, Angola, Cape Verde, and Mozambique, adds to its cosmopolitan appeal. Although Portuguese people have a reputation of being laid back and welcoming, as a military veteran, Proctor wanted to make sure to do her part to build bridges and give back.Shortly after arriving in Lisbon, Proctor began hosting events for Black and brown people at local establishments to make authentic connections between local Portuguese, those who relocated to the country, and those who were passing through. She along with Kam Clemons, a fellow American expat, co-founded Black in Portugal, which hosts monthly events and meetups geared towards building community between expats and the local Black population in Lisbon. In just over a year, Black in Portugal's goal of creating a thriving global community, is paying off.
Vinson and Crawley retired to Lisbon in October 2022, and the move was "a soft landing," Vinson says, "because of the Black in Portugal community." They now help other aspiring retirees realize their own retirement dreams through their platform, Our Black Utopia. On why they chose Lisbon, Vinson says, "we are city folks at heart and want to be where there are plenty of museums, theater, and community events."The Douro river slices through Porto, Portugal.
Alex Vasey/nsplashHow much money do you need to retire in Portugal?Depending on location and lifestyle, the cost of living in Lisbon can range from $2,000–$3,500 per month. Outside of the bigger cities, you can expect to spend less.
Wester lives comfortably on less than $2000 per month and chronicles her mid-life adventures on her blog, The Hot Goddess."My dream has always been to live on the ocean, but ocean-front property in the U.S. is very expensive," Wester says.
"Leaving the United States in retirement was a way to lower my expenses and live in an affordable, safe oceanfront property." Wester left Cleveland, Ohio, in October 2022, and now calls Atalaia-Lourinha—a small village town along Portugal's Silver Coast where farm meets sea—home.
Wester admits that by choosing to retire in a small village, she doesn't have access to any expat communities as she might in bigger cities like Lisbon and Porto.
"I think that's been a good thing because it's forced me to get involved with locals and be immersed in the culture here. I'm registered with the senior citizens center and the village council."
Working out the details
The visa process
Portugal's D7 visa is popular among retirees and persons living on passive income. This two-step process involves meeting all the visa requirements, which include obtaining a NIF number, providing proof of financial sustainability, and having health insurance.
Upon successful approval, the applicant is issued a four-month visa allowing them to enter Portugal for an in-person meeting with SEF and to obtain a two-year temporary resident permit, which completes the second-step of the visa process. (Residents of Portugal can enjoy visa-free travel to Schengen countries.) At the end of two years, an applicant can renew their resident permit for a three-year term.
At the end of five-years, they can apply for permanent residency or citizenship.Language European Portuguese is the main language spoken in Portugal. In densely populated areas of Portugal and major cities such as Lisbon and Porto, Americans can get by speaking English. Learning phrases like "Bom dia" (Good morning) and "Muito obrigado" (Thank you very much) can ease new transplants to the language.
Enrolling in a language program like Portuguese with Carla can help bolster your confidence and increase your ability to communicate with locals. TaxesAll U.S. citizens are required to file taxes with the Internal Revenue Service regardless of whether they live abroad and are taxed on their worldwide income. The U.S. has a tax treaty with Portugal, which may exempt or reduce your tax burden.
Additionally, residents can apply to Portugal's non-habitual resident program that offers special tax treatment for ten years based on eligibility. Consulting with a tax professional in both countries is advised before making the move so you understand the tax implications related to your situation.