Portugalist may generate a commission from mentioned products or services. This is at no additional cost to you and it does not affect our editorial standards in any way.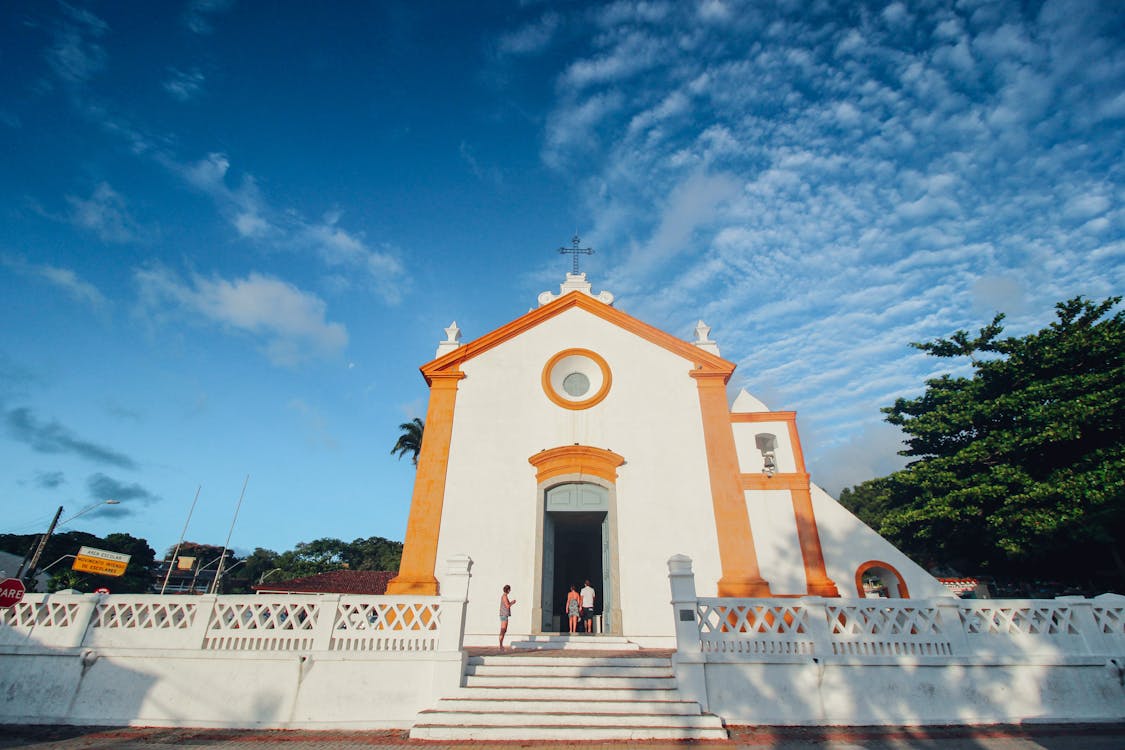 Photo by Cassiano Psomas: https://www.pexels.com/photo/people-in-front-of-white-and-orange-church-2098705/
Whether it's the rising cost of living, political uncertainty, or access to affordable healthcare and university education, more and more people from outside the EU are thinking about moving to a European country. You may not be ready to move just yet, but you might be looking for a country that could be your backup plan. And there are a lot of reasons that country should be Portugal.
Portugal is widely considered affordable, safe, and welcoming, and thanks to Portugal's golden visa scheme, you can obtain residency now without having to physically move just yet. In fact, Portugal's golden visa requires you to spend just 7 days per year on average in Portugal to maintain residency there.
(There are cheaper visas than the golden visa, but most require you to move to Portugal and spend 6+ months of the year here making them less suitable to be a "backup plan" but an option if you're ready to move immediately)
The flexibility of this scheme makes Portugal's golden visa perfect for:
Those that want a "backup plan" somewhere in Europe, but have no intention to move otherwiseThose that plan to move to Europe at some point in the future but not just yetThose that are still working or have commitments in another country that make it difficult for them to move to Portugal right now
Here's what that "backup plan" might look like in four simple steps.
Step 1. Choose Your Investment Route Step 2. Apply for Portugal's Golden VisaStep 3. Maintain Your Investment & Continue to Meet the Minimum Stay RequirementsStep 4. Apply for Permanent Residency & Portuguese Citizenship
Step 1. Choose Your Investment Route
There are a number of investment routes that allow you to obtain the golden visa. The most popular route is to buy a residential house or apartment, but another popular route – and one that doesn't come with the challenges of owning a property abroad – is investing in a commercial property such as a hotel.
Many developers in Portugal offer packages that allow you to buy a golden visa-qualifying share, room, or apartment in a hotel or resort for, starting from €280,000. There's normally a "buyback option" once you have reached the point where you're able to apply for citizenship. Some schemes pay you rental income for the period, and a number of schemes pay you the rental income upfront.
According to Jason Swan of Holborn Assets, "investing in commercial property is one of the cheapest and most straight-forward routes to obtaining Portugal's golden visa. It's ideal for those that are planning a future in Europe and want to get the ball rolling now."
Request Information: Golden Visa Options from €280,000
Of course, investing in commercial property isn't the only route. The following are some of the most popular investment and donation options.
Residential Property: €280,000, €350,000, or €500,000, depending on the propertyCommercial Property (such as a hotel development program): €280,000, €350,000, or €500,000, depending on the terms of the investment programFunds (such as a venture capital fund): €500,000Transfer capital to a Portuguese bank account: €1.5 millionDonation to Portugal's Arts & Culture sector: €250,000Creation of 10 jobs: No minimum amountCompany Incorporation & Creation of 5 jobs: €500,000Investment in research (such as scientific research): €500,000
Once you have decided which investment route is best for you, you're ready to put in an application for you and anyone else you're including on your application, such as a spouse or partner, children, and other dependents.
Step 2. Apply for Portugal's Golden Visa
There's a little bit of work involved in applying for the golden visa, which is why it's good to get the ball rolling as soon as possible.
Some of the more challenging work includes:
Obtaining essential documents, such as birth and marriage certificates and criminal records checksComing to Portugal for an interview and biometricsWaiting for the golden visa to be approved (waiting times typically exceed 8 months)
Step 3. Maintain Your Investment & Continue to Meet the Minimum Stay Requirements
During the 5-year period, you will be required to maintain your investment and meet the minimum stay requirements, which average 7 days per year (14 days in the first 2 years, for example). If you've chosen the hotel investment option, many programs allow you to spend 1-2 weeks at the hotel or resort as part of your investment.
The Algarve is less than a 3 hour flight to London and you can fly from New York to Lisbon in less than 7 hours, so getting to Portugal is easy and the 7 days is manageable even for those that have challenging work commitments.
If during this period or during the next stage (permanent residency and Portuguese citizenship) you decide you want to move to Portugal on a more permanent basis, the move will be considerably easier and you can easily come here and take advantage of benefits like public healthcare and affordable private healthcare, affordable university education, and the ability to travel easily within the Schengen Area.
Step 4. Apply for Permanente Residency & Portuguese Citizenship
After 5 years of meeting those minimum stay requirements, you can apply for permanent residency and Portuguese citizenship.
The benefit of permanent residency is that you won't have to renew your residency every 2-3 yearsThe benefit of citizenship is that you do not need to renew your residency and there are no minimum stay requirements to maintain it
As citizenship can take 1-2 years to obtain, permanent residency makes the interim period less taxing while you wait for your citizenship to be approved.
After you have obtained citizenship and have an "EU passport", you'll not only be able to live in Portugal but anywhere in the EU.