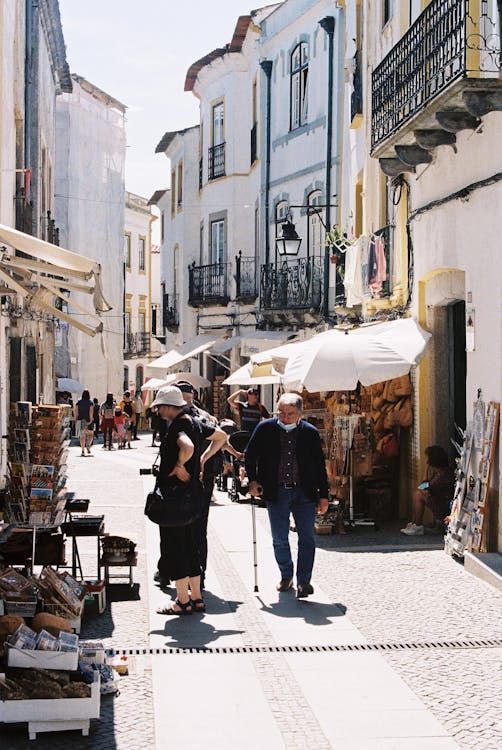 Photo by ensaio da cegueira: https://www.pexels.com/photo/people-in-the-old-town-street-market-15234266/
Becoming a citizen of the European Union (EU) is an attractive prospect for many people looking to expand their prospects and experience a different way of life. With the EU's economic and political stability, a growing population of immigrants, and the opportunity to travel and work freely across the continent, EU citizenship offers a range of benefits. However, the process of becoming a citizen of the EU is not straightforward and requires a good understanding of the regulations and requirements. This article will provide an overview of the different paths to EU citizenship, the documents required, and the potential benefits of obtaining EU citizenship. It will also explain the process of how to apply and the consequences of becoming an EU citizen.
Obtaining an EU passport is an excellent investment in terms of social, economic, and personal security. To become a European citizen, you must meet a number of criteria that demonstrate that you are capable of integration into European society. The processing fee for EU citizenship by descent varies by country, but can range between EUR 1000 and EUR 2,000. Naturalization takes place in a variety of ways depending on the pathway you took to citizenship, such as working or marrying. An EU work visa is usually granted to a candidate who has a job offer in the EU and whose employer sponsors them. To qualify for naturalization, you must demonstrate that you speak a fluent foreign language in your EU country. Portugal has the most accessible citizenship in the EU.
You can only obtain European citizenship after a period of several years or a few months. To obtain EU citizenship with an American passport, you must follow the same citizenship path as other foreigners. Among the most common investments are real estate and government bonds.
It typically takes seven years or longer for a person to obtain European citizenship. Before you can apply for citizenship through naturalization, you must first invest in the country, obtain a five-year residency permit, maintain your investment, and live in the country for a significant amount of time.
Which Eu Country Give Easily Citizenship?
Citizenship can easily be obtained in Ireland, Portugal, and Italy if you have a family tree with ancestry in those countries. The only way to get a Maltese passport is to have enough money to participate in the country's citizenship by investment program. You can become a citizen of Portugal without having any Portuguese heritage if you have been living there for at least five years.
Portugal, on the whole, is a relatively simple country to obtain EU citizenship from. If you have significant resources to invest or make a sizable donation, you can obtain EU citizenship as soon as possible. Malta is one of the few places in the world where citizenship by investment is possible. The naturalization process in Malta is not widely used. Ireland has no passive income pathway that leads to citizenship. To obtain residency through investment, one must invest at least $1 million. Luxembourg offers both a viable passive income-based residency path and a five-year citizenship timeline.
It is easy to obtain citizenship in the EU for Portugal because of the numerous factors it meets. One of the cheapest ways to immigrate to Europe is to live in this country. If you want to relocate to Portugal as your primary residence, you can take advantage of preferential tax treatment under the non-habitual residency (NHR) tax scheme. Portugal is one of the world's fastest routes to European citizenship. After five years of residency, you are eligible to apply for Portuguese citizenship. The quickest timelines are found in a number of European countries, including Ireland, Belgium, and Sweden. The citizenship by investment scheme allows citizens of Malta to obtain an EU passport in as little as 12 months.
Citizenship is easily granted in a number of European countries, but it is determined by a number of factors. The most important factors to consider when determining the 'easiest' are your current nationality and financial situation. At Digital migré, we make the majority of our efforts to ensure that you have the best opportunity to obtain EU citizenship.
An application for citizenship through a business investment scheme in Vanuatu takes as little as 50 days to process. Through investment trusts, Vanuatu is one of the first countries in the world to become a world citizen. Not only that, but as citizens of the country, stateless people can also invest in the country and obtain passports in order to join. Many countries, including India, provide citizenship and work visas to citizens of India who hold an Indian passport. Citizenship is available in a wide range of countries, including Austria, Belgium, Ecuador, Belize, and Costa Rica. If you want to travel abroad with an Indian passport, you can also apply for Travel Tips and Immigration through these countries, which will be completed in a short period of time. Individuals looking to become citizens of the world or live as a stateless person have access to a wide range of opportunities in Vanuatu and other countries. This procedure is relatively simple and does not take much time to complete. Citizenship applications are easier and faster for Indian passport holders, thanks to new processes. As a result, if you want to become a world citizen or obtain a passport, you should consider Vanuatu, as well as the other countries listed above.